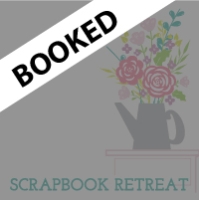 Designed with scrapbookers and crafters in mind, our weekend retreat package provides an inspirational oasis to get away and be creative with friends. It offers our guests the freedom to retreat from daily distractions and provides guests with both privacy and peacefulness -- transforming an ordinary weekend into a relaxing and refreshing environment that gets your creative juices flowing!
Our retreat will accomodate up to 10 adults with a minimum stay of 8.

Weekend Stay: Check-in Friday 6pm, Checkout Sunday 3pm
Cost: $125/person for the entire weekend (Minimum 8 required)
Payment: A $200 deposit is required to reserve the weekend, with the balance due one month prior to the reserved date.

Each person will be provided with:
● 6-foot table
● Individual lighting (desktop lamp)
● Cutting mat
● Access to outlet or power strip
● Office chair
Creative Memories products and some unique, hand-made die-cuts will be available for pre-order so that you can have the materials upon arrival.