My Spring Garden was designed with scrapbooking in mind, but the facility is also perfect for all craft groups.
The large open craft area can also be used for group gatherings including bridal and baby showers, corporate meetings, and is an ideal space for church group retreats. A five bedroom house with a large open craft room with a kitchenette and ample parking. Accommodates up to 10 people.
Meet Mike & Teresa Johnson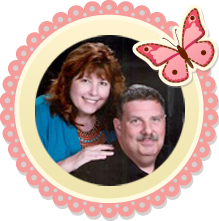 Teresa loves to scrap and is a Creative Memories Advisor. The dream of opening a retreat house would not have been possible without the support of husband, Mike. Mike and Teresa keep busy with their two children and four grandchildren; who give Teresa plenty of opportunities for photos and Mike ample opportunity to utilize his handyman skills.